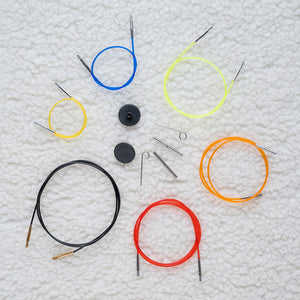 These circular knitting colour-coded cords from Knitter's Pride are made from flexible and resilient material, providing a smooth join, with no kinks or twists.
Long threaded screw-in "join" ensures that cords and needles stay connected.
The cord caps enable you to work on more than one project at a time.  The caps screw into the cord ends to securely hold your knitting on the cord, while you remove the needle tips for use in another project.
Works with all Knitter's Pride normal interchangeable knitting needle tips.

Packaging:
Set of 1 Cord, 2 End Caps & 1 Cord Key