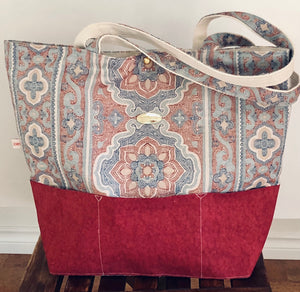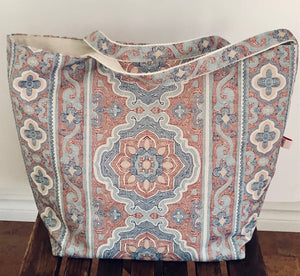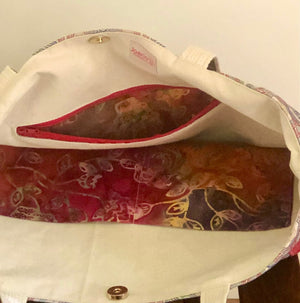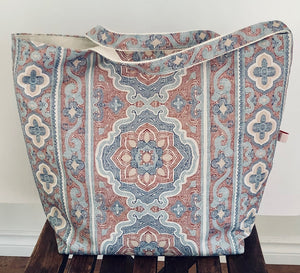 This stunning extra large handcrafted tote bag is made from new upcycled upholstery fabric, with 3 burgundy Kraft-Tex paper exterior slip pockets on the front of the bag. This bag measures 44 cm wide x 33 cm tall (17.5" x 13") with a 15 cm (6 inch) box bottom. The exterior fabric is heavy enough that it didn't need to be interfaced and give you a soft but firm exterior.
The bag's interior is lined with a firm natural cotton canvas and includes both a slip pocket measuring 28 cm wide x 10 cm deep  (11"  x 4") and a zippered pocket measuring 20 cm W x 19 cm D (8" x 7.5") made with batik cotton fabric.
It also features a sturdy, two 56 cm (22-inch) shoulder strap for comfortable carrying. and the bag closes with a snap closure.
 What is Kraft-Tex?
Kraft-Tex is a fiber-based textured paper that looks, feels, and wears like leather, but sews, cuts, and washes just like fabric. Durable enough to be used for totes, belts, wallets, book covers, luggage tags, and more. Kraft-Tex softens and crinkles with handling and washing.
PS.   When you order this bag, you will receive a matching small zipper pouch to store your notions.  Only available with this Mosaic bag.